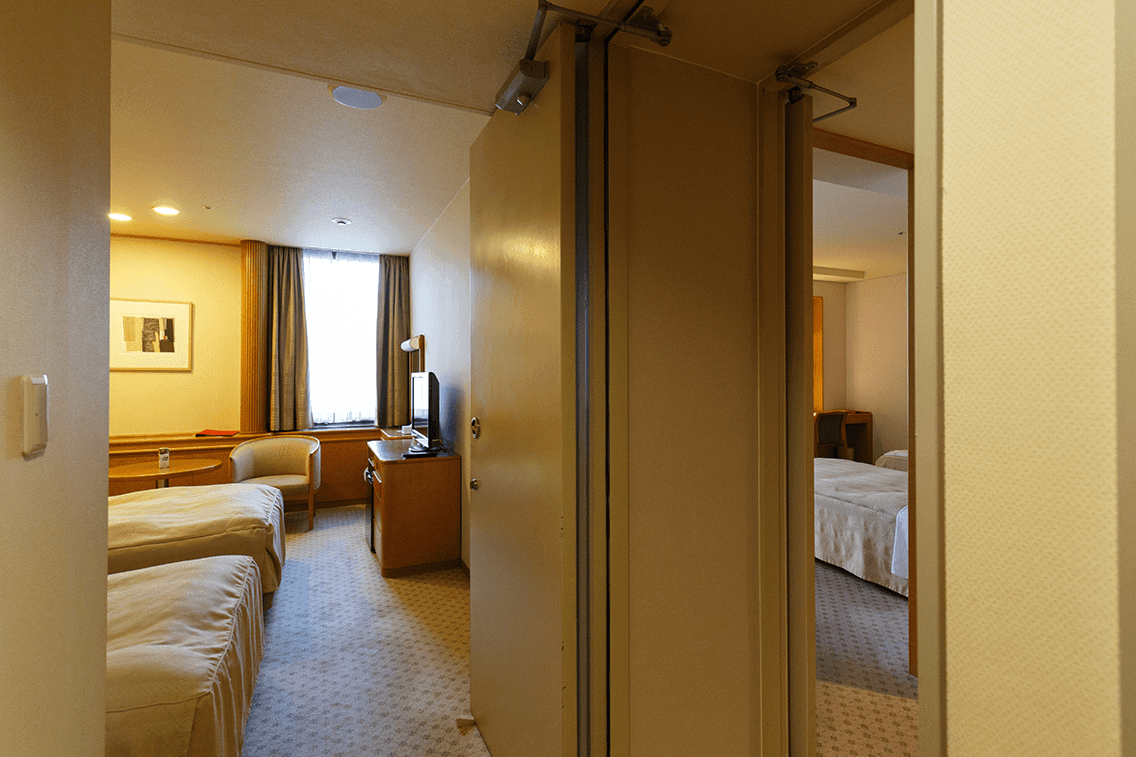 Simplified Hardware for Communicating Doors
A communicating doorway has two doors in a single door frame and each door opens away from the other. Communicating doorways are a solution to many design challenges, yet are most commonly used between adjacent hotel rooms. There, the doors can be opened to convert the rooms into a suite, yet guests in either room can close and lock their side. When both are closed, the two doors provide an extra layer of protection against thermal or noise transmission.
Source: iDigHardware FF: Communicating Door Closers
If the doors are required to be self closing, you could use two overhead door closers - one on each door. Yet this is often impractical due to space limitations between the two doors. It can also be difficult to install overhead closers in complicated back-to-back configurations or with conflicting closer arms.
Source: NAITO YOJI Rooms Connecting In Annex Building Tokyo Hotel Shiba.
Waterson's closer hinges, on the other hand, are an ideal way to simplify communicating door hardware and reducing installation costs. Our closer hinges are used instead of ordinary hinges and do not take up space with the door frame. In addition to reliably and quietly closing the doors, they also feature unobtrusive, built-in hold open and door stopping functions.
Waterson Closer Hinge Systems combine door closers, spring hinges, and an optional hold open feature into one attractive & unobtrusive component that is ideal for commercial swing, gate, and glass doors. Our closer hinges are easily installed and adjusted to comply with ADA & ICC A117.1 requirements for opening force and to assure quiet, secure closing. Made with stainless steel, Waterson closer hinges meet NFPA 80 and are UL 3-hour fire-rated, as well as suitable for both interior and all-weather exterior openings.
To learn about the many other benefits of Waterson closer hinges, click here.