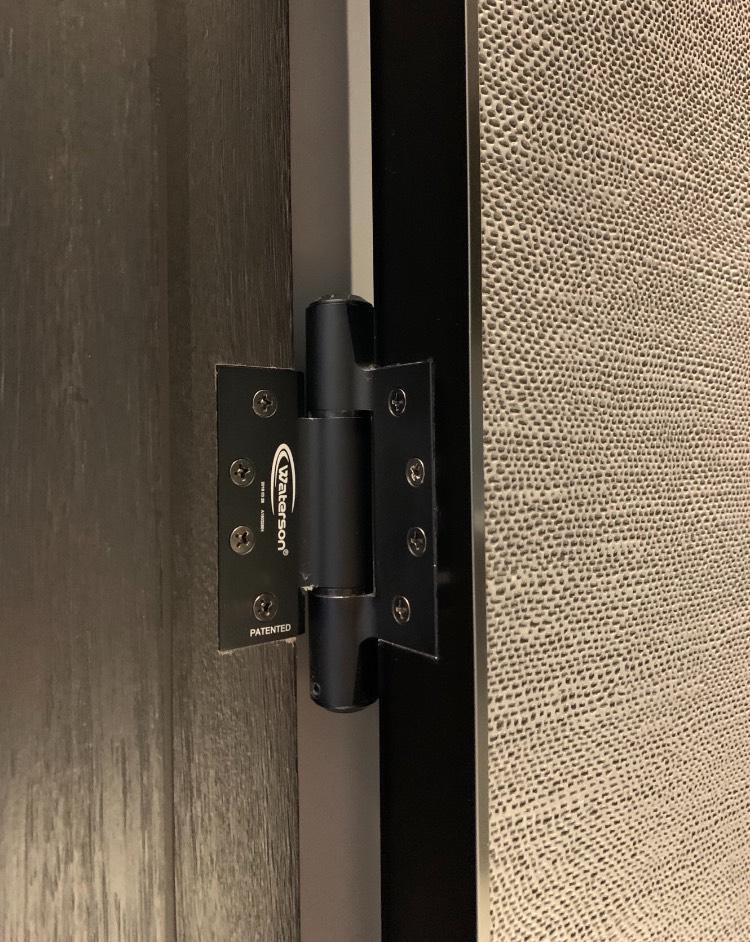 An End To Slamming -- Choosing The Best 6 inch Spring Hinges
Stop Self-closing Doors From Slamming
Spring-loaded hinges with rare sizes, like 5-inch or 6-inch, get worn out fast for its simple design (only coil spring inside) or the overwhelming door weights (mostly over 200 pounds). After constant rotation on the heavy door or frequent spring hinge adjustment, the metal spring and tension pin soon lose its elasticity and resilience. Door slamming is destined to happen, as there's no viable internal speed control unit. Waterson Closer Hinge systems solve these issues by combining fluid motion, space-saving and elegance.
Extra Heavy Duty 6 Inch Hinges
Produced by our unique investment casting process, Waterson 6" hinges are extremely durable and ideal for medium to high frequency use heavy doors. One million cycle-tested ensures consistent and efficient swing performance. We also provide other standard template closer hinges -- 4" x 4", 4.5" x 4.5", and 5" x 5" with two different gauges.
Patented Door Closing Speed Control Mechanism
Waterson hinges are designed with a state of the art speed control function that allows users to precisely adjust door movement speed. We offer two closing types -- Mechanical Only and Hydraulic Hybrid. Three customized speed zones ensures that users can easily prevent slamming using Waterson's patented deceleration feature. Click here to learn more details.
Available 6 Inch Hinge Finishes per BHMA Standard
6 inch closer hinges are scarce, so are their finishes. Finishes contribute to both the requirements of aesthetics and durability. Some hinges use regular paintings or simply raw metal as the standard finishes. With Waterson adjustable hinge, you can choose a wide range of colors from Stainless Satin-Brushed(US32D/630), Black(US19/631), Oil Rubbed Bronze(US10B/613), Satin Brass(US4/633), or any color you prefer for customized design. Click here to get a complete BHMA finish chart.
The Best Closer Hinges
Waterson Closer Hinge Systems combine door closers, spring hinges, and an optional hold open feature into one attractive & unobtrusive component that is ideal for commercial swing, gate, and glass doors. Our closer hinges are easily installed and adjusted to comply with ADA & ICC A117.1 requirements for opening force and to assure quiet, secure closing. Made with stainless steel, Waterson closer hinges meet NFPA 80 and are UL 3-hour fire-rated, as well as suitable for both interior and all-weather exterior openings.