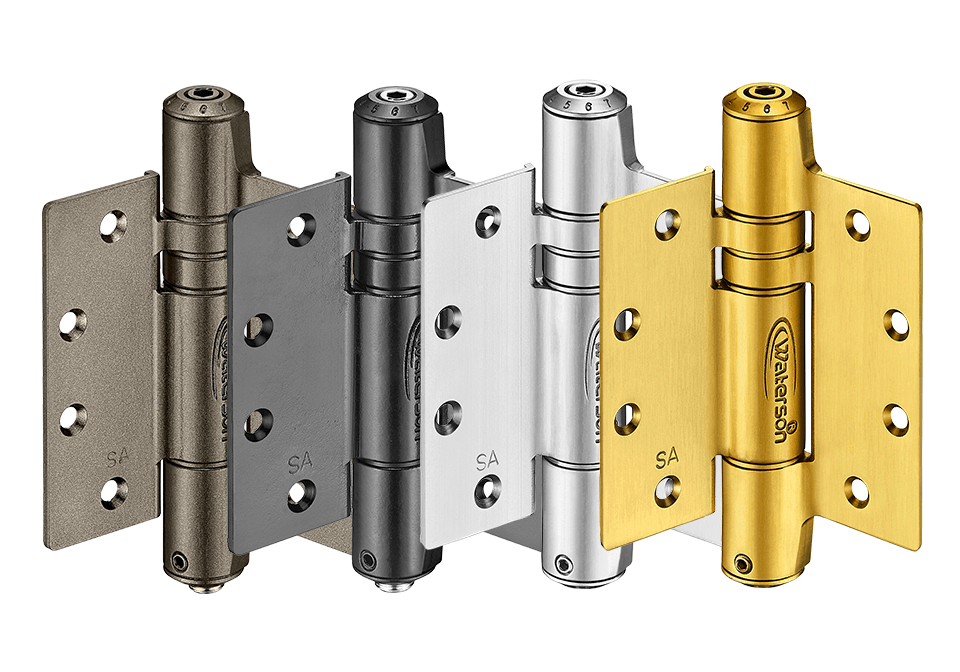 Why Invest In Commercial Spring Hinges
Waterson commercial spring hinges, also called door closer hinges, are designed with a state-of-the-art speed control function that allows users to precisely adjust door movement speed. In addition, Waterson hinges include an easily adjustable closing force that can match various door masses. This design works in cooperation with an anti-slamming speed control mechanism, which ensures that your doors will close smoothly at the desired swing speed.

Except for slam-free functionality, here are some other Waterson commercial spring hinges that contribute to commercial and institutional building occupants.
Access control, security, and safety
Even if a doorway is monitored, it may be advisable to have closers on doors and gates to reduce unauthorized entrance, improve safety and security, and contribute to peace of mind.
Energy conservation and thermal comfort
Leaving a door open can result in the waste of conditioned air due to infiltration and exfiltration. This applies not only to exterior doors but also interior doors separating rooms with different atmospheric conditions. Reducing energy loss helps meet sustainability objectives such as the Energy & Atmosphere requirements of the Leadership in Energy and Environmental Design (LEED) program. Case study: Choose the Best Commercial Spring Hinges for Hotel Doors.

Environmental controls
Closed doors can help protect against undesirable noise, odor, dust, insects and vermin, and other nuisances. Safeguarding against problems of these types can help meet goals for sustainability and occupant wellness. In other cases, environmental controls such as these may be required by health departments or other authorities having jurisdiction.
Commercial Grade Waterson Closer Hinges
Waterson Closer Hinges combine an overhead closer and hinge into one attractive component with optional hold open and door stop features. Waterson hinges are ideal for commercial openings, gates, and glass doors. These closer hinges are easily installed and adjusted to comply with ADA & ICC A117.1 requirements for opening force and to assure quiet, secure closing. Made with stainless steel, Waterson closer hinges meet NFPA 80 and are UL 3-hour fire-rated, as well as being suitable for both interior and all-weather exterior openings. See all our features.