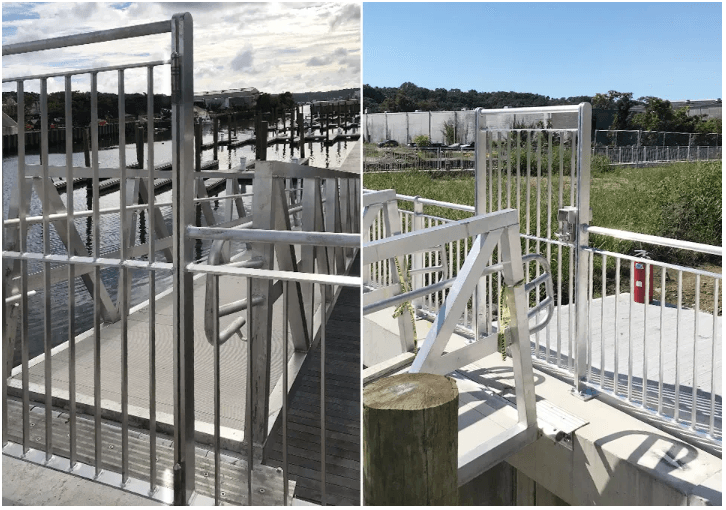 Why Everyone Loves Using Waterson Heavy Duty SST Hinges
Located on the Atlantic Ocean, Long Island has historically been a center for fishing and seafood. As the biggest and longest island in the United States, Long Island is rich with beautiful ocean views. Sadly, the intoxicating seaside air is also rich with salt that can have a crippling corrosive effect on buildings and metal components.
Due to this challenging natural environment, a Long Island-based customer recently inquired with Waterson about a more durable closer hinge solution. She was struggling with lesser quality hinges that performed poorly in the salty environment. We explained to her that choosing the right hardware is critical for longevity, durability, and aesthetics. Heavy-duty 316 stainless steel door hinges make a world of difference in salty places like hers. Locating a marine-grade stainless steel product is surprisingly rather difficult, though. Luckily, Waterson has you covered!
Crafted with 316 marine-grade stainless steel, Waterson hinges stand up to the rigors of a harsh salty seaside environment. 
316 stainless steel hinges
tend to cost more, yet they are much more durable and reliable in rugged environments. Heavy-duty 316 stainless steels like the ones we use on our hinges at Waterson are much more weather resistant and less affected by chemical exposure due to chromium, nickel, and molybdenum elemental properties. Therefore stainless steel provides an impressive lifespan.  Some of the key benefits of 316 stainless steel include:
316 STAINLESS STEEL BENEFITS
Superior corrosion resistance
Chlorine resistance 
Offshore, marine & washdown applications
COMMON Waterson Heavy Duty 316 SST Closer Hinges QUESTIONS
Q: Would these hinges work on a door that is 2" thick?
A: Typically for a 2" thick door you would have to use 5 x 5 stainless steel door hinges.  Waterson provides a variety of 316 options including 4 x 4, 4.5 x 4.5, 5 x 5, and even 6 x 6, which gives users a host of options for door thicknesses from 1 ¾ to 2 ¼".
Q: Do they make this 316 4 inch hinge squared?
A: Waterson provides a variety of 316 options including 4 x 4, 4.5 x 4.5, 5 x 5, and even 6 x 6, which gives users a host of options for door thicknesses from 1 ¾ to 2 ¼" with square or radius corners.
Q:  Do you guarantee these will never rust?
A:  Waterson stainless steel hinges are currently in use in several salty seaside environments for more than five years without fail. 
Q:  Where is the manufacturer of this hinge located?
A:  Waterson Hinge Mfg is located in Taiwan, which can be found on FAR 25.003 concerning Trade Agreement Act (TAA -- order threshold $193,000) and Buy American Act (BAA -- order value between $2,500 - $193,000).  The TAA provides that the U.S. Government may acquire only U.S.-made or designated country end products. A list of designated countries can be found at FAR 25.003.
Q: Are the supplied screws 316 grade as well?
A: Yes, we can provide 316-grade screws with your hinges upon request.
---
Waterson Multifunction Closer Hinges
combine an overhead closer and hinge into one attractive component with optional hold open and door stop features.  Waterson hinges are ideal for commercial openings, gates, and glass doors.  These closer hinges are easily installed and adjusted to comply with ADA & ICC A117.1 requirements for opening force and to assure quiet, secure closing.  Made with stainless steel, Waterson closer hinges meet NFPA 80 and are UL 3-hour fire-rated, as well as being suitable for both interior and all-weather exterior openings.
See all our features
.