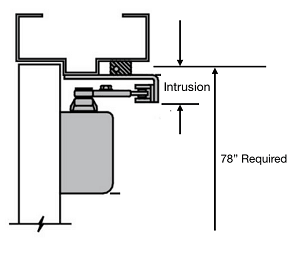 ADA Vertical Clearance Fire Rated Door Solution
According to NFPA-80, fire rated doors require to have a self-closing mechanism. In the meantime, ADA sets specific guidelines for door clearance. On the basis fo ADA Protruding Objects Chapter 307.4 Vertical Clearance, "Headroom clearance of at least 80" high is required along all circulation paths (except at doors and doorways where a 78" minimum clearance is permitted to accommodate door stops and closers." Therefore in order to meet this ADA specification, no door closer is allowed to be installed within the 78" minimum clearance space.
What ̛s Happening
Commercial fire rated doors are typically 80" or 84" high. With an 80" door it is essentially impossible to install a top door closer and meet the 78" minimum clearance requirement. Therefore one's choice is to either use a bigger, more expensive 84" fire resistance door or use a shorter opening with a spring hinge. Sadly conventional spring hinges will undoubtedly slam loudly and hazardously. In the case of an 84" door, you will only have 6" of space to install a self closing device and its swing arm; that said, a mere 6" limits your traditional door closer selections. Read More: An End to Slamming
Waterson Works
Waterson hinges allay ADA clearance concerns and fire rated codes, making them ideal for commercial spaces such as hotels seeking to upgrade rooms to compliance. This avoids unnecessary construction costs and disruptions due to trim, door casing, and jack studs drywall removal, to name a few. Read More: Self-closing Solution for Five Star Hotel
Waterson Closer Hinge Systems combine door closers, spring hinges, and an optional hold open feature into one attractive & unobtrusive component that is ideal for commercial swing, gate, and glass doors. Our closer hinges are easily adjustable to comply with ADA & ICC A117.1 requirements for opening force and to assure quiet, secure closing. Made with stainless steel, Waterson closer hinges meet NFPA 80 and are UL 3-hour fire-rated, as well as suitable for both interior and all-weather exterior openings.