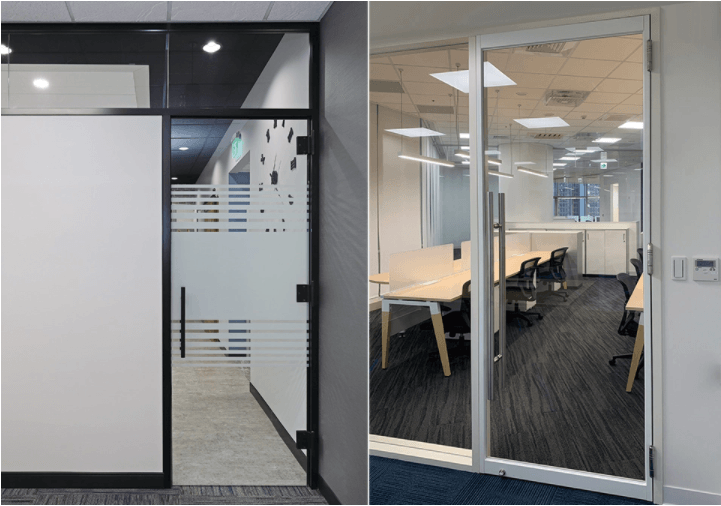 Solving Frameless Glass Interior Doorway Challenges In Modern Offices
Modern commercial office places are routinely designed to function as employee work spaces, as well as customer meeting locations.  In terms of the latter, business owners more and more understand the benefit of having aesthetically-pleasing environments that not only represent their brand, but are also welcoming to their customers.  That goes for all areas in the office, particularly entryways where elegant glass frameless doors are more frequently being used on interior locations. 
Many modern office doorways, however, have space constraints for door closing hardware.  Bulky traditional door closers are frequently unusable due to their large size, not to mention they require a frame around the door in order to connect to it.  Interior glass doors are typically frameless.  At the same time, floor spring hinges require significant and intrusive preparation like digging a hole in the concrete.  This is a costly and time-consuming task.  Both of these options pose designers and contractors with numerous challenges.  
Waterson glass door hinges provide durability, stability and an attractive design that compliments modern office environments.  Waterson's unique design allows hinges to hold interior frameless glass doors stably by drilling directly through the glass rather than simply clamping.


Heavy Duty Applications
Our heavy-duty stainless steel hinges accommodate glass up to  ½", as well as can smoothly and softly swing 8 ft doors.  Waterson Glass Door Closer Hinges are an ideal option for commercial office applications.
Modern Door Aesthetics
Available in three pleasing finishes -- black, white, and stainless steel, Waterson glass door closer hinges accommodate modern design trends like thin frames.  Where floor closers are too bulky for narrow mounts, Waterson hinges adapt seamlessly to any size.  
Comparison With Floor Closer
| | | |
| --- | --- | --- |
| | Waterson Glass Closer Hinges | Traditional In Floor Closers |
| Closer Location | Side of door.  Installs easily like regular hinges | Cut and drilled into the floor.  Greater effort.  |
| Opening Force | Effortless | Requires more effort |
| Sustainability | Maintains structural quality over time | Susceptible to rust |
| Total Cost | Low installation & maintenance expense | High installation & maintenance expense |
| Durability | 1 million cycle test certified | Various cycle test levels |