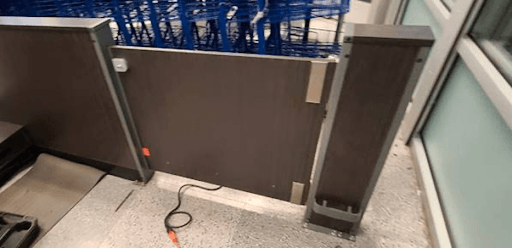 Exceptional Heavy Duty Steel Gate Hinges
More and more commercial retailer stores are reaching out to us with requests for heavy-duty interior steel gate hinge functionality. Many of these high-frequency commercial retail locations need a durable solution that is also ADA compliant. Interior steel gates generally need to withstand the daily rigors of frequent operation, as well as the possibility of unorthodox use.
Client's Interior Study Gate Requirement: 
ADA compliance

Door spec 29"x36", 16lbs but require 180~200lbs loading capacity

2 hinges on each door.
Heavy Duty Self-Closing Solutions
Crafted with weldable stainless steel, Waterson self-closing heavy duty steel gate hinges are built to firmly withstand harsh conditions. Moreover, our gate hinges meet IRC AG105.2.8 code-compliant safety. Waterson hinges provide you the option to have ADA-compliant self-closing and speed control, as well as door stop and hold open functionality on metal commercial gates.
Unique Side Post Design
Where full-surface and mid-post need to be installed on adjacent surfaces, Waterson side-post gate hinges can be installed on uneven planes. With a unique offset barrel design, Waterson hinges provide greater installation flexibility. While most gate closers are bulky and fragile, our sturdy gate hinges maintain durable and reliable function due to an innovative design that integrates a stainless steel barrel with an enclosed mechanism.
WATERSON HEAVY-DUTY GATE CLOSER
Waterson Gate Closer Hinges combine speed control self-closing technology and traditional hinge mechanism into one attractive component. Available in full surface and mid-post versions, Waterson Gates Closers are crafted from durable 304, 316, and 316Lmarine grade stainless steel. These low-maintenance gate closer hinges are easily adjustable to meet ADA & ICC A117.1 requirements for 5lb opening force and closing speed. UL-listed one million cycle times grade-1 testing ensures high quality, secure closing, and reliability in the interior, exterior and harshest environments. See all our features.